If you want to give your finished garden level or basement a fresh new look, consider installing modern basement hopper windows that bring in a ton of light and significantly increase airflow. Our basement hopper windows were designed to enhance ventilation and provide a fantastic look for your fashionable lower level living space.
When it comes to finished basements in and around Morgantown, The Window Source has the ideal option. In order to maximize cost savings and boost energy efficiency, our basement hopper window replacements were created with a focus on providing energy-efficient construction for both new and replacement windows.
Enjoy the Breeze with Basement Hopper Windows
Our replacement basement hopper windows come in a variety of styles, are incredibly simple to use, and are reasonably priced. Horizontally oriented, our basement hopper windows are designed to open inward. This makes cleaning simple and improves ventilation, and your new hopper windows won't obstruct the window wells or exterior shrubs and landscaping.
These basement hopper windows are watertight with a strong seal that keeps your living space dry given the occasionally extreme weather conditions in Northern West Virginia and Southeast Pennsylvania. Our hopper windows are made of a sturdy vinyl material that is almost maintenance-free and never needs painting or touch-ups while adding a beautiful architectural accent to the interior of your basement.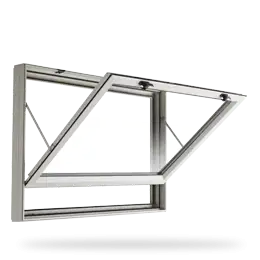 Our Basement Hopper Windows Feature:
Fusion-welded sashes and mainframes
Multi-chambered 3 1/4 inch vinyl frames
Superior protection for inclement weather with triple-barrier weatherstripping
Tilts in for ventilation and cleaning
Sash can also be removed for full ventilation or pass-through
Pull handle lock for security and positive seal
Double insulated glass
Heavy-duty, stainless steel, free-floating concealed pivot arm
Full fiberglass screen included
Meets Energy Star® requirements with select glass packages
Contact us for a free, no-obligation estimate.
See What Our Customers Are Saying About Us
"Quality windows at an affordable price. Love our windows! Talked to several companies, but The Window Source offered top notch windows at the best price. Sales and installation crew were very nice, knowledgeable and professional. They did a great job."
M Kinser, OK
"Excellent service, product, and less than half the price of the other 2 estimates I had. Installer cleaned up after himself and was very professional."
Ian Gollahon, OK
"The Window Source of Tulsa was recommended to us. We received bids from three window replacement companies. Window source had the best product at the best price. The installation was on time and professional. We were kept informed through out the process. We are very pleased with the final product. About two weeks after the windows were installed I broke the outside pane of one window while mowing the yard. I contacted Window Source and told them what had happened, offering to pay for the replacement. They replaced the window free of charge. They are a pleasure to do business with."
Alan McIntyre, OK
"Fantastic Company and true to their word! The crew was so professional and polite. We had our entire house of windows done and it only took 2 days. The quality of these windows are amazing and we couldn't be happier! Don't pay the high price that other companies want. This is the real deal!"
Jennifer Rochester, NH
"The company to use if your needing window replacement, Fair pricing and honest fast work."
Tom Reavis, GA